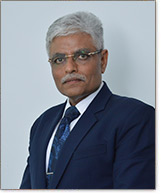 MR. Nayan A Shah
President, CREDAI - MCHI
Groomed by late Shri Arvindbhai & Smt. Vasumati Shah (Parents) and Mr.Viren A. Shah (Brother; migrated to the USA), Mr. Nayan A Shah is a qualified Master in Business Administration (MBA), having specialized in Finance and Project Management. Apart from being very dynamic and persuasive, he is conscious of responsibilities as a businessman. Mr. Nayan Shah holds the reins of the company – Mayfair Housing, the business having achieved performance standards in different areas under his able leadership.

Mr. Shah joined the family business so that he could live with his parents who established the Business.  Shri. Chotubhai Ajmera and Shri.Mofatraj Munot are his role models. Mr.Nayan Shah has been a member of MCHI right since his inception i.e. from 1982-83 and he is the 14th president of CREDAI-MCHI. CREDAI MCHI looks forward to take up policy initiative and has been actively involved with the work as an Econometric model and take up a policy initiatives that balances the Trinity of Affordable highly effective in conducting predictive analysis,, for e.g., by how much might the sale volumes increase if the cost of approvals was to be reduced by 50% (as one of the case examples)

He is now President of CREDAI – MCHI.
Mayfair is a 53 years old Company, which is in the business of real estate development for over 40 years. It works with the most modern concepts and techniques in all-around functions of the business i.e. construction techniques, architectural or management. Mayfair Housing has a team of dedicated executives and personnel. Mayfair not only believes in hiring the services of well-qualified people but also imparts training to its staff, which has been the key reason for Mayfair Housing is one of the well-managed businesses in the industry. Mayfair Housing has predominantly concentrated on developing residential houses in and around the suburbs of Mumbai.

While managing successfully completion of many redevelopment projects on time to the satisfaction of its customers, Mayfair Housing has emerged as force to reckon with.

Mayfair has been pioneers to sell its flats on Carpet Area and believes in the Transparency in Title and offering possession with Full Occupation Certificate on a declared day date time. Until date, all flats delivered by Mayfair having with Occupation Certificate. Mayfair Voluntarily complies with RERA.

Mr. Nayan A Shah is the first Developer in India to register one of their projects in Titwala known as "Mayfair Vishwaraja", under MAHA RERA.

He works for a larger goal to provide Quality Affordable Housing for all in the Mumbai Metropolitan Region. Mayfair recently signed an MOU with CREDAI – MCHI India and Govt. of India to deliver 8200 Affordable Home in Mumbai and in MMR area.
Mayfair like all developers are passing through tough times, but he sees these as challenges and enjoys every moment of it.

Last Mile Issues:
All that is required is an early redressal to all last mile issues, thereby leading to faster approvals. Hence, the key focus of the New Committee is Execution, Completion and Commencement, that is;
Seamless execution of all projects;
Timely completion and obtaining of the full occupation certificate; and
Expeditious commencement of all new projects.
While it is our mission to collaborate with you and your government such that our Industry significantly contributes for taking Maharashtra Economy to a trillion dollar economy, in order to achieve the aforementioned revenue potential, the following have to be looked into in a time bound manner.
Ease of permissions with the goals of making Maharashtra amongst the top states in India in EODB taking India's EODB ranking amongst the top 50 in the world.
To cap GST & Stamp Duty at 8%, to bring down the total transaction cost to make housing affordable with simplified GST return filing, which today is the single most important reason for the slowdown in the Industry
Focus on all the last mile hurdles: ULC, Common DCR, DP-DCPR 2034, MoEF, Civil Aviation, Defense, HRC, Tree NOC, Focus on all ULBs, VVCMC, MBMC, MCGM, KDMC, TMC, CIDCO, NAINA, SRA, Collector Thane, Palghar, Raigad, Stamp Duty, etc.
An active participant in various national and international real estate and infrastructure seminars, he has also been a very active member and office bearer at MCHI.

Endurance Athlete and Vipassana Meditation is where his inner strength comes from.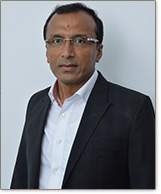 Mr. Bandish Bhogilal Ajmera
Hon. Secretary
Mr. Bandish Bhogilal Ajmera - Director of Ajmera Group. He is actively associated with the group over 35 years. His practical approach and pleasing personality has contributed towards the success of varied prestigious project all over India. He takes special initiative towards the overall functioning of the group. His foresight and hard work has helped achieve the respect of his customers, as well as his employees. His involvement in the organization as well as with the staff has made the entire group "one family that is built on trust". He also plays a leading role in the Maharashtra Chambers of Housing Industry (MCHI), and has recently been appointed as Hon. Secretary for CREDAI-MCHI He has been in the CREDAI MCHI Exhibition committee for 3 years and is also the founder and Ex President CREDAI MCHI – Kalyan Dombivli unit.
Mr. Ajmera has been contributing to the society very actively through the S. S. Ajmera Trust, which is a social organization established by the Ajmera Group for the welfare of the society.