The 40th Annual General Meeting was held on 21st September 2022, at Sofitel Hotel, Mumbai. The meeting was hosted by Mr Boman Irani, President and conducted by Mr Dhaval Ajmera, Hon. Secretary along with 34 Managing
Committee Members.
Mr Dhaval Ajmera, Hon. Secretary read and confirmed the minutes of the 39th Annual General Meeting & The Auditors Report and Audited Statements of Accounts.
Hon. Secretary requested the Committee Members to consider and adopt the CREDAI-MCHI Report for the year 2021-22 & to appoint an auditor for the year 2022-23 and fix the remuneration. It was approved unanimously.
Mr Dhaval Ajmera declared the results of the Managing Committee Elections for 2022-23, 2023-24 & 2024-25.
Presentation by CREDAI-MCHI Women's Wing & various chapters of CREDAIMCHI Units.
The introduction of the Grand Property Expo was done by Shri Nikunj Sanghavi, Convener, Property Exhibition.
President Shri Boman Irani talked about various activities carried out by CREDAIMCHI during 2021-22.
CREDAI-MCHI eyes growth for MMR; launches its policy initiative 'Modernise, Maximise, Revolutionise MMR'
With the vision to further transform MMR to boost economic growth and development for the region and the country, CREDAI-MCHI launched a Vision Document – Maximise, Modernise, Revolutionise: MMR, as well as a part of its policy initiative, focused towards the regeneration of MMR. The Vision Document was unveiled during the blue-riband ceremony held on 21st September 2022 during the 40th AGM at Sofitel, Mumbai, which was attended by Shri Bhushan Gagrani (IAS), Additional Chief Secretary to Chief Minister, Shri S.V.R Shrinivas (I.A.S), Metropolitan Commissioner, MMRDA, Shri Ajoy Mehta (I.A.S RETD.), Chairman, MahaRERA, Arch. Hafeez Contractor, Mr Mukesh P. Mehta, Chairman, M M Project Consultants Pvt Ltd. & Shri Shrikant Joshi, CEO & MD, Larsen & Toubro Limited (Realty Division). The policy initiative aims to build Mumbai and MMR into world-class sustainable regions and modern cosmopolis by 2040 while emphasizing climate change and carbon neutrality along the way, with the joint efforts of the State Government.
Through this initiative, CREDAI-MCHI, as a stalwart entity, draws key recommendations to act now to integrate, innovate and internationalise MMR through public-private partnerships and a people-driven development model. As
suggested by CREDAI-MCHI, some key measures include the Integrated Urban Water Authority, and the rejuvenation of water bodies through the river buddies program, dedicated mangrove parks, the introduction of skill trucks, integrated data strategy, infrastructure investment fund board and many such innovative recommendations. The document also enlists some trends that will transform MMR, including digitalisation of administration, electric vehicles ecosystem, better public transport system, and sustainable and responsible construction practice
among others. The State Government and CREDAI-MCHI jointly plan to act on these trends through a proposed committee of subject experts from public, CREDAI-MCHI and Government of Maharashtra.
Meeting Chaired by: Shri Deepak Goradia, President, CREDAI-MCHI
Meeting Conducted by: Shri Pritam Chivukula, Hon. Secretary, CREDAI-MCHI
Date: Tuesday, October 5, 2021, at 1800 hours.
Venue : Hotel Sofitel, BKC, Bandra (E), Mumbai 400 051
Shri Pritam Chivukula welcomed the members present and after completing the formalities of the 39th AGM of CREDAI-MCHI, he invited Ms Richa Shah, Hon. Chairperson of CREDAI-MCHI Women's wing who mentioned that despite the pandemic, the Women's wing has done incredible work in conducting CSR activities for CREDAI-MCHI. She also thanked SBI for the donation of INR 5 lakhs which was used to give scholarships to deserving students. She also mentioned the health camps and other workshops conducted by CREDAI-MCHI Women's wing
for the benefit of society.
Hon. President, CREDAI-MCHI, Shri Deepak Goradia in his speech mentioned that his main agenda was to create demand and reduction of operational costs along with east of doing business with the Government. He further mentioned that despite the pandemic, the last 2 quarters have been the bright spot for the real estate industry for the entire MMR region. He explained how issues like reduction of stamp duty, notification of unified DCPR, 50% reductions in premiums,reduction in CFO fees and other initiatives of the GoM has helped the industry.He also said that these concessions are achieved due to continuous representation of the chamber to appropriate Government authorities. Shri Deepak Goradia also highlighted that the chamber is working for many other aspects including moratorium matters, registration issues, LUC matters, RR, premium reduction extension and flamingo sanctuary which are being challenged and pursued by CREDAI- MCHI. Shri Boman Irani, President Elect, CREDAI-MCHI presented the vote of thanks and concluded the meeting.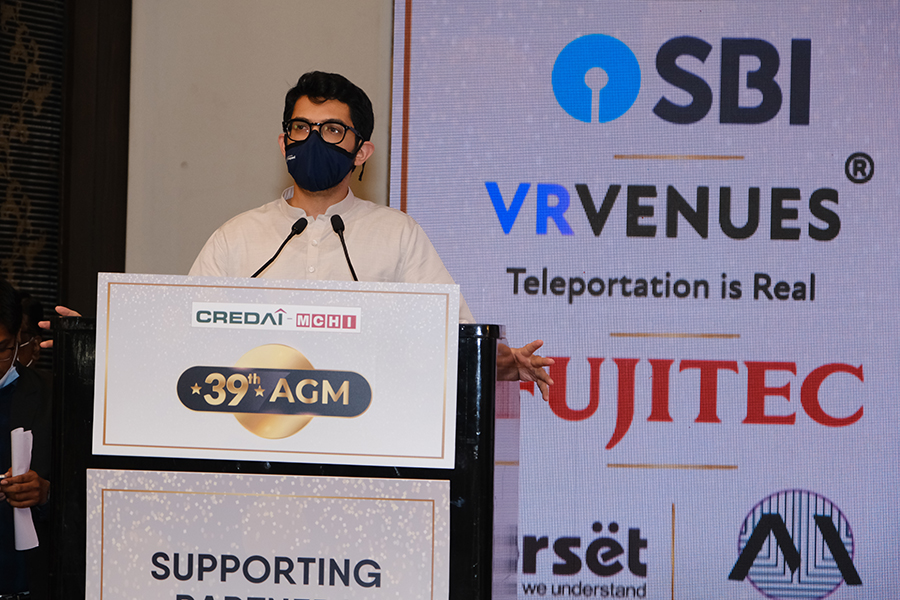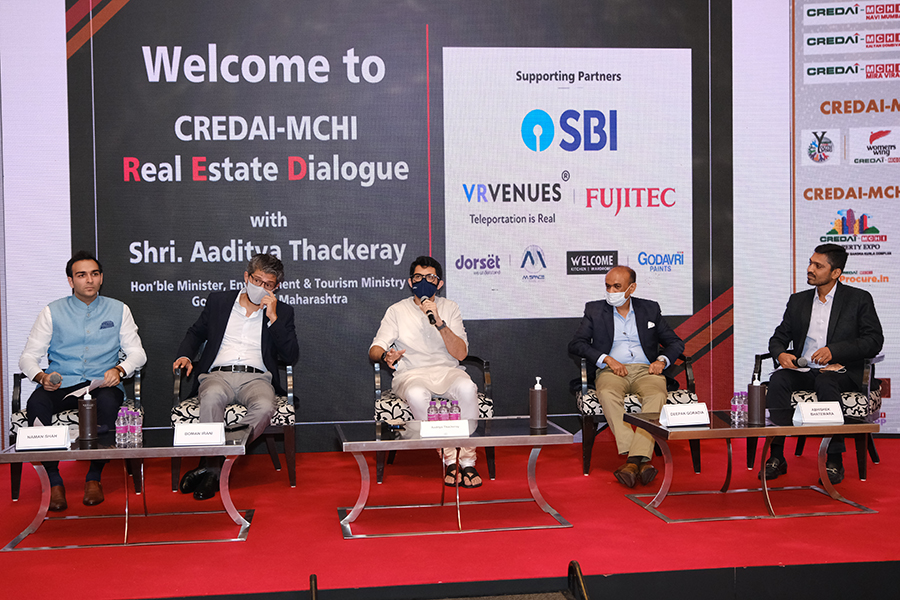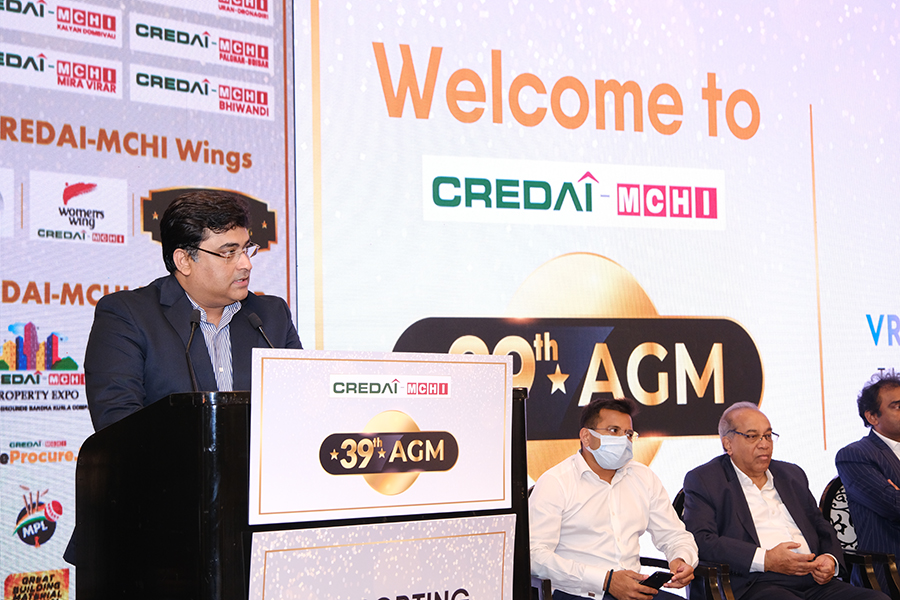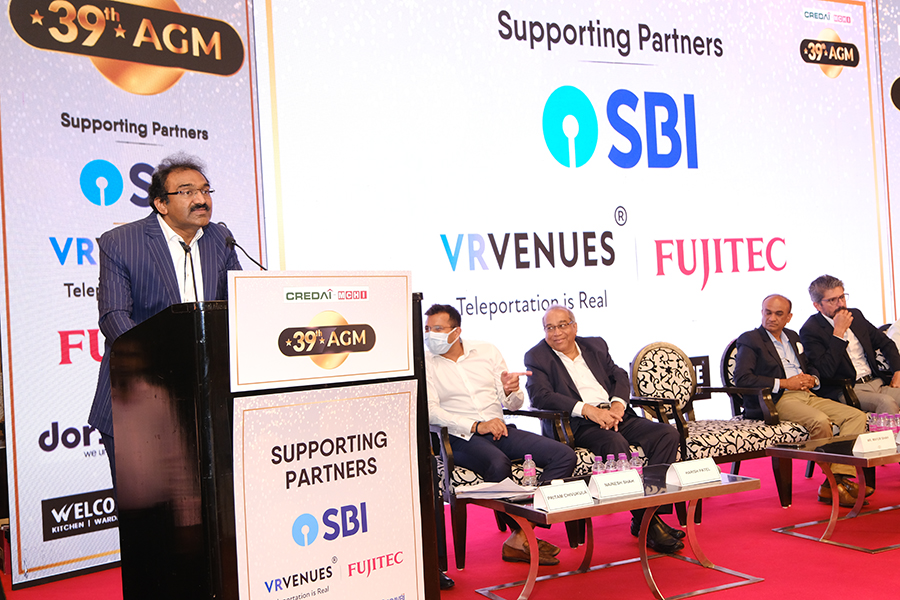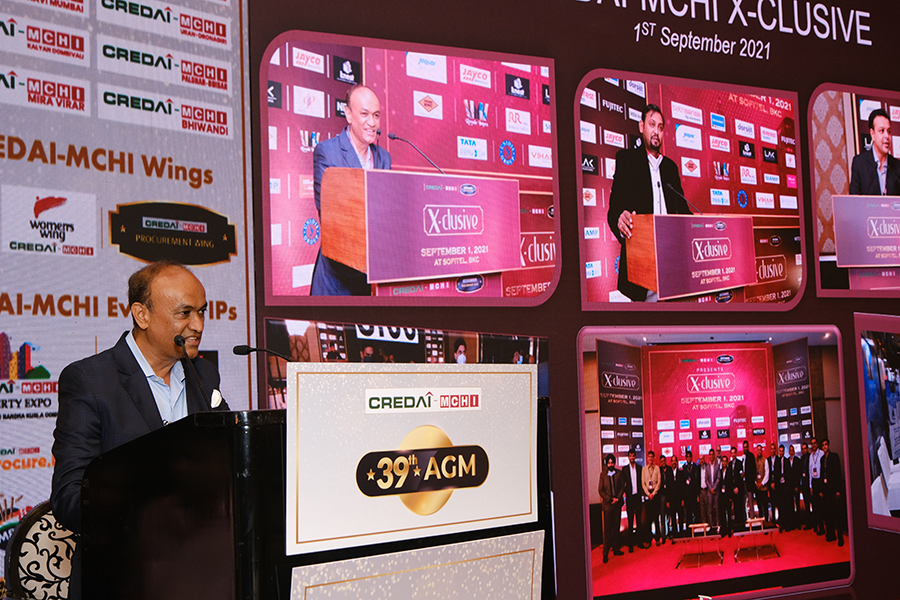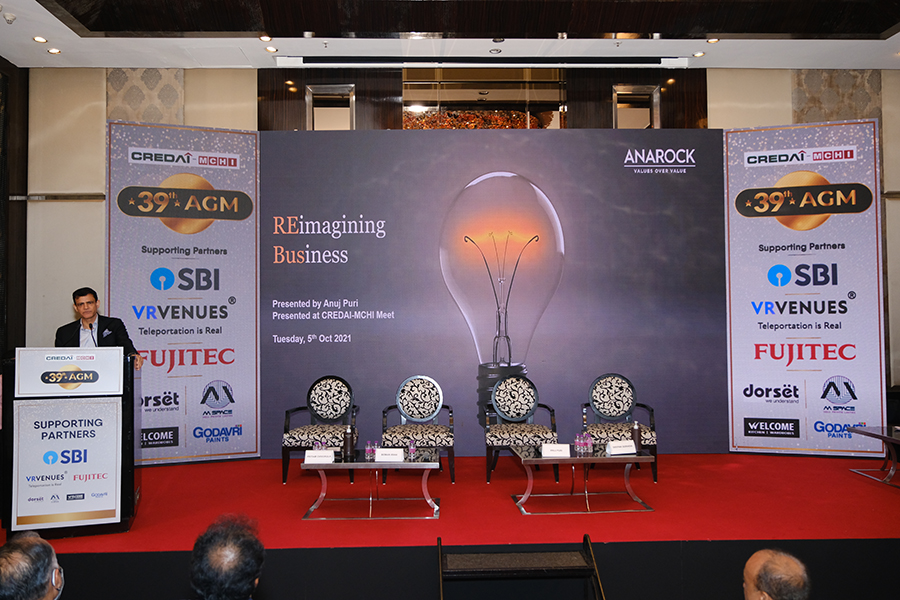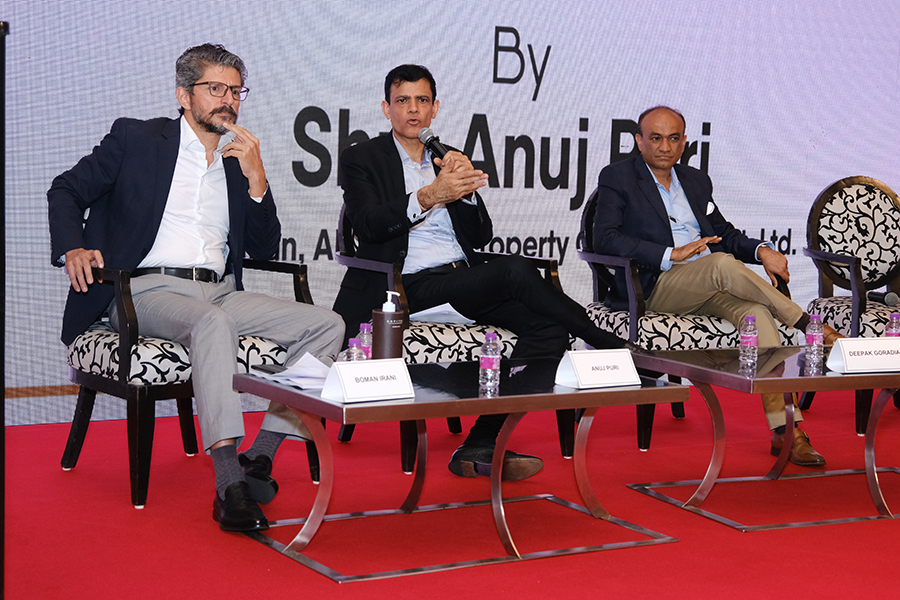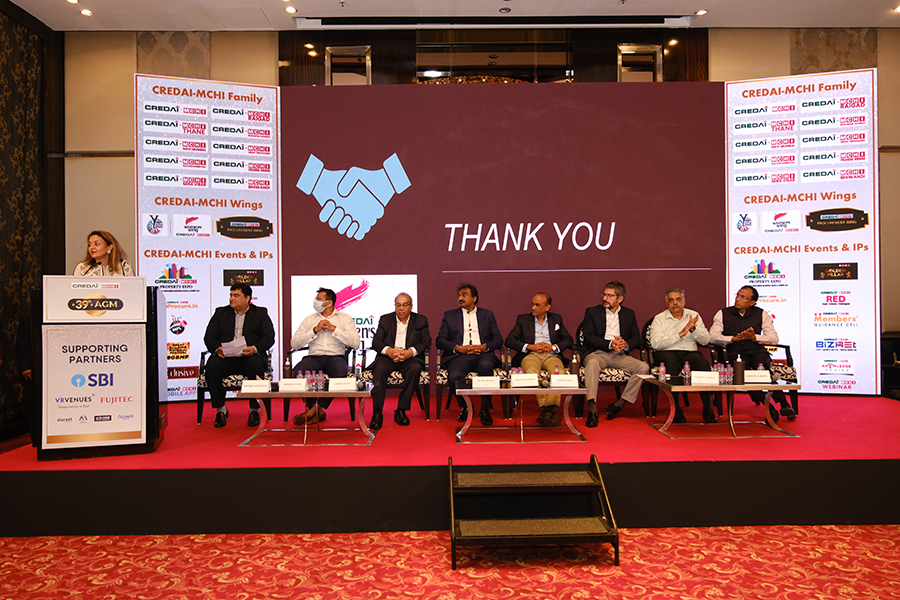 Presentation by Shri Anuj Puri, Chairman Anarock on Real Estate Opportunities for the Next Decade
Shri Anuj Puri presented an exhaustive presentation to the members covering various trends on residential, office, retail and capital market and new sectors. He mentioned that remote working for offices will be there and going back to the regular office working system is difficult as of now, few IT Companies have given Work from home for life. YOLO (You Only Lives Once) concept is coming up with the youngsters.
The Data Centers are in huge demand, price attract to acquire land to create data centres is very high. Navi Mumbai is the place that is becoming more operational for Data Centers operators. Shri Anuj Puri mentioned that overall sales comparative to 2019-20 was not at the best level. it is 25% lower than 2019. It is not the market has expanded but sales have gone up. 1.1 crore homes in India are vacant compared to China's 5 Crore. There is enough investor inventory is there in the market.
He also mentioned to Learn, Unlearn & Relearn. Many things that get us successful are not the things that are going to take us to the next level. There have to be new thoughts, youngsters need to come up and share their new ideas. Lastly, he points out that In India there are Office REITS but in the U.S there are Residential REITS. If you build to rent, then the efficiency comes in. Currently, we are building which is not designed to rent. So there is lots of wastage of space.
RED Talk with Shri Aaditya Thackeray, Hon'ble Minister for Environment & Tourism
Shri Aaditya Thackeray, Hon'ble Minister mentioned that this real estate industry has done well even in the time of pandemic and the government has extended its support to them. This was only possible because of two-way dialogues. Both of us heard out each other, both of us understood each other. We are creating Affordable Housing; at the same time, we are upgrading the lifestyle. Both the sectors play a major role.
He mentioned that whenever these two sectors meet the Politics and the real estate many times it is termed as Builder politician nexus. Hence, we need to create such nexus in reality and work together. We need to look at how to build this city and take advantage of Chief Minister, who is true Mumbaikar at heart. The next few infrastructures will be ready like Metro Development, coastal roads, Worli – Sewri connector, Mumbai Trans Harbour Link, Goregaon – Mulund Link road and Beautification of Eastern Express Highway, Western Express
Highway, Eastern Freeway, AGLR, SCLR, JVLR will be done.
As market leaders, the Government working along with Engineers, Architects, Designers, can build a better city if we come together and build a better city in terms of affordability and aesthetics. He pointed that the Biggest challenge as of now along with COVID is climate change. Climate change is going to affect us like never before. Urgent steps are required towards moving towards climate-resilient India. Different sectors can be de-carbonized.
The 38th AGM of CREDAI MCHI was held on Friday, September 25, 2020 at 4:30 pm
through Zoom Meeting. The Meeting was well attended by 207 Members. 
Shri Anuj Puri, Chairman, Anarock Property Consultants Pvt. Ltd. mentioned that whatever transpired in these 6 months, for Real Estate and especially residential, its being positive and a lot more momentum, energy and confidence within the Indian Real Estate Sector. These things started to happen in the minds of the consumer. Many cities have started to look back to their Pre-COVID level. Looking and the initial days of COVID situation it was looking like it will take 18 months at least to get normalized but before the festival season, there are positive news,
particularly Residential sector have been started to come in the industry.